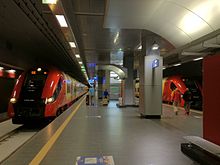 Rail
The easiest way to reach downtown Warsaw. By taking either S2 (to downtown Warsaw) or S3 line (to Central Railway Station), you have the chance to transfer safe and sound to your destination.
Taxi
Get within 20 minutes to Warsaw by taxi. There are just 3 taxi companies available in Warsaw Airport: Ele Taxi, Super Taxi and Sawa Taxi ready to attend your needs.
Bus
Warsaw Airport is connected to downtown Warsaw by 5 bus routes to not only the city centre, also to other key locations within the city such as the Central Railway Station or the Metro Station Wilanowska.
Car Rental
Want to rent a car at Warsaw airport? Click here and check all the options that do you have available!